Moon to join business forum, industrial park ceremony in Yangon
07:45 September 04, 2019
By Lee Chi-dong
NAYPYITAW, Sept. 4 (Yonhap) –
South Korean President Moon Jae-in will travel to Yangon, Myanmar's largest city, on Wednesday for a business forum, a groundbreaking ceremony for a joint industrial zone and a highly symbolic visit to a monument for South Korean victims killed by a North Korean-orchestrated bombing in 1983.
He's leading a delegation of hundreds of South Korean business figures to the forum. They plan to have discussions with Myanmar government officials and business leaders on ways to expand investment and trade between the two countries.
Earlier this year, the two countries signed a deal on creating a joint industrial park in a town just north of Yangon.
They plan to hold a symbolic groundbreaking ceremony for the South Korea-Myanmar Industrial Complex (KMIC) with Moon in attendance.
It's expected to help enhance public awareness on the joint venture in both nations, which are seeking to broaden and deepen bilateral partnerships on the economy, investment and trade.
South Korea hopes that the KMIC, scheduled to be built in 2024, will serve as a stepping stone for its firms to start or expand business in Myanmar.
Moon arrived in the capital city of Naypyitaw on Tuesday and had a series of meetings with President Win Myint and State Counsellor Aung San Suu Kyi.
The two sides agreed to cooperate closely, especially on the economy and development.
Moon noted that South Korea and Myanmar have great potential for economic partnerships in synergy between his government's New Southern Policy and the Myanmar Sustainable Development Plan.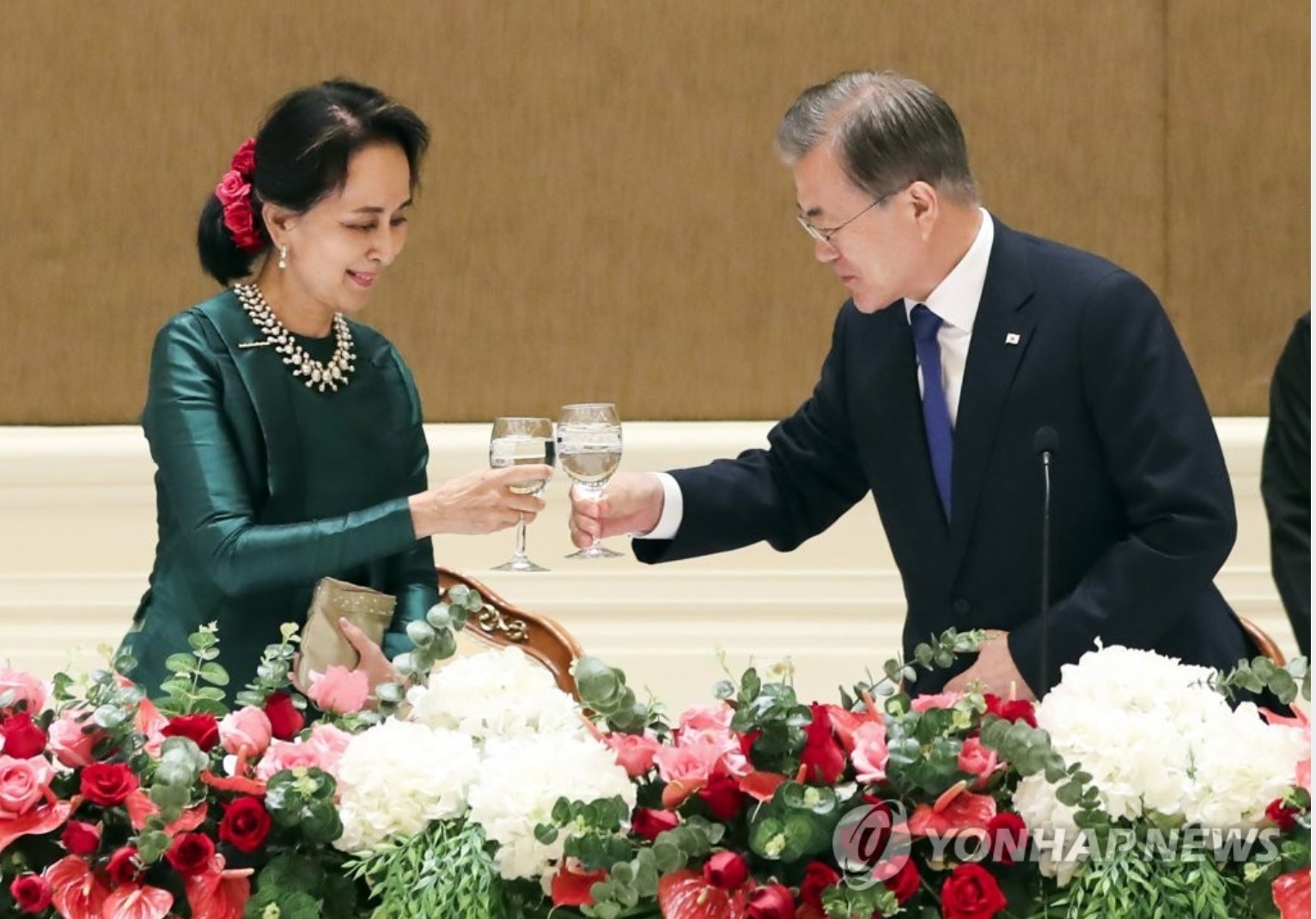 Also drawing attention is Moon's plan to visit the monument set up at the Aung San National Cemetery for South Korean victims of a North Korean bomb attack. In the Oct. 9, 1983, tragedy, North Korean agents detonated a bomb timed with the arrival at the cemetery of then South Korean President Chun Doo-hwan. The blast claimed the lives of 17 South Koreans, including Deputy Prime Minister Suh Suk-joon and Foreign Minister Lee Bum-suk.
Joining a state dinner on Tuesday, meanwhile, Moon spoke highly of the "bold economic reform" drive by the administration of Win Myint and Aung San Suu Kyi, which is behind the country's rapid growth of over 6 percent a year.
"I wish (for a Myanmar) miracle of the Irrawaddy River, comparable to (South Korea's) miracle of the Han River, and promise that South Korea will be with Myanmar's efforts," Moon said. "Today, I confirmed a shared position with the president and the state counsellor for people-centered peace and prosperity. We agreed to strengthen cooperation in various fields such as agriculture, education, science, technology, startups and infrastructure."